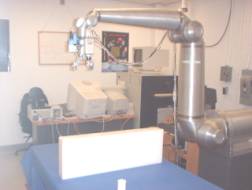 The USF Department of Mechanical Engineering along with the Rehabilitation Engineering and Technology Program focuses its research on creating new assistive technologies for persons with disabilities. Current active research areas include remote vehicle control systems, personal mobility devices, rehabilitation robotics, haptic interfaces, augmentative communication, safe mobility, home and work site modifications, and virtual reality based simulation for assessment and training. The Director of the Rehabilitation Engineering and Technology Program is Dr. Rajiv Dubey.
CAD Lab: The engineering department has several CAD labs that utilize standard industry wide software and equipment. The software includes 2D drafting, 3D modeling and simulation, finite element analysis (FEA).
Robotics Lab: The robotics lab has cutting edge theory on trailing edge technology. RRC K-2107A 7DOF robotic Arm, PHANToM, Spaceball, Basic Stamp Works Kits, Mechatronics Kits, Digital Servo Workshop, Automotive Transducer Kit, LabVIEW Virtual Instruments with multi-channel digital data acquisition and systems control.
Engineering Prototyping Facility: The Mechanical Engineering Department has a full service CNC prototyping center with three full time machinists / toolmakers and three part time machinist assistants. The machining facility contains modern equipment including CNC Mills and Lathe, TIG Welder.