Robyn Stawski's dream of becoming a world-champion athlete is a little bit closer to coming true, thanks to the work of USF mechanical engineering students.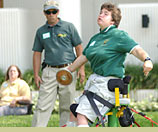 The students designed a chair for Stawski, who has cerebral palsy, to use while participating in Paralympic track-and-field events. She first used the chair during the Paralympics International Challenge in Orlando on May 4, and received the silver medal in the discus throw.
"The field chair has allowed me to compete at a new level, and it's only going to get better," said Stawski, who hopes to travel to France for the Paralympics World Championships in July.
The chair was one of several student-created assistive devices for disabled people featured at a May 7 presentation at the Lifsey House. USF students enrolled in the senior-level design course also created a spin-art machine, adjustable desk, water ski and collapsible scooter.
This year is the first time the students had to build an assistive device for someone in the community with a specific need, said Glen Besterfield, a mechanical engineering professor who teaches the course. The work was done in collaboration with the College of Engineering's Rehabilitation Engineering and Technology Program, a state-wide project that aims to develop integrated rehab-technology systems to increase the independence and employment of people with disabilities.
"For most of us, technology makes things easier," said Rajiv Dubey, Rehabilitation Engineering and Technology Program director and Mechanical Engineering Department chairperson. "For people with disabilities, technology makes things possible."
The spin-art machine developed by the USF students makes it possible for Lucy Aponte, who has cerebral palsy, to experience the joy of creative expression.
"Assistive technology and engineering allows people with disabilities to have a productive and meaningful life," said Lucy's mother, Berthy De La Rosa-Aponte. "Many of them live in poverty and to overcome that, they need economic self-sufficiency, and they can't have that without assistive technology."
by Janet Zink
Article originally appeared in Forum Newsletter.