ASME FWCS Engineer of the Year – Mr. Stephen Sundarrao
Stephen is a pioneer and leader in the field of rehabilitation engineering. He has devoted his expertise in engineering plus the time needed to enhance the quality of lives for individuals with disabilities through technology. In doing so he exemplifies the mission and societal impact engineers make in the community.
He is an educator, researcher, businessman, community partner and a friend to all his colleagues and individuals with disabilities. Stephen's love for the field is contagious and causes his students to embrace the field of rehabilitation engineering with enthusiasm and passion. He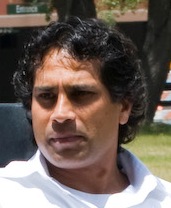 teaches the Capstone Design Course for Mechanical Engineering that has produced over twenty-five innovative devices for individuals with disabilities. Many of which have been patented. He has obtained funding to support students projects including the annual AME student design competition. As a result many new innovative products have been created by students at USF and are in the process of being commercialized.
His perseverance and vision were key in establishing the internationally recognized Center for Rehabilitation Engineering and Technology which is now in its seventh year. This has become an interdisciplinary center that includes the Colleges of Engineering, Medicine, and Arts and Sciences. Research areas include robotics, wheeled mobility and transportation. He serves on several national and international boards and has been recognized for his outstanding contributions including the 2007 Florida Governors' "Point of Light Award". He supports the ASME organization by serving as the Vice Chair for College Relations, funding and mentoring ASME student members, and coordinating various activities with industry partners to enhance the learning experience. His is a worthy recipient of this award in recognition of his support of the core values of ASME to facilitate the development, dissemination, and application of engineering knowledge and promote the technical and societal contribution of engineers. The ASME FWCS is proud to name Stephen Sundarrao as our 2008 "Engineer of the Year".
Join FWCS Parent Chapter of ASME today to enjoy the benefits and be part of a great tradition.