USF Rehabilitation Engineering Center demonstrates new hi-tech mobility equipment
Barbara Perkins, News Coordinator
University Communications & Marketing

TAMPA, Fla. (April 21, 2008) – The University of South Florida's Center for Rehabilitation and Technology (http://retp.eng.usf.edu) will showcase its latest advanced mobility technology Wednesday, April 23 at 1 p.m. in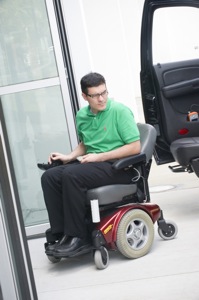 the USF Research Park on Spectrum Blvd. next to the Embassy Suites Hotel. Rehabilitation engineers will demonstrate new technologies to representatives from the Veteran's Administration and local therapists. This event is also free and open to the public.
Among the new hi-tech inventions for individuals with disabilities will be those for increasing wheelchair mobility and personal independence. Recently introduced technology designed by USF engineering students and professional rehabilitation engineers working together include a rugged, "off road," No Boundaries Wheelchair Kit for use in the great outdoors, and a Sideways Wheelchair Kit with finely tuned lateral movement for workplace, home and community locations.
"Many of the new products we will be demonstrating started with projects our rehabilitation engineering students created in their senior year," said Stephen Sundarrao, director of the Center for Rehabilitation Engineering and Technology.
Josh Lujan, a USF graduate who was part of the team of senior students in Sundarrao's capstone class who built the Sideways Wheelchair Kit, will be in attendance. "The capstone class required that we pick an idea and develop it from scratch," said Lujan. "We liked the idea of creating a sideways wheelchair, brainstormed and decided that a six bar device at the back of the chair that lifts the rear wheels while a motor drives the chair either to the left or right was the best solution for lateral movement." With the Sideways Chair, says Lujan, users can move into a tight row in a movie theater, parallel park, or slide in behind a desk – maneuvers that could not be carried out with a traditional power chair mobility device.
For those who want a mobility device and don't want to lose touch with the world of the outdoors, the rugged Off Road Wheelchair kit is making its debut Wednesday. While developing robotics, vehicle modifications and mobility devices for personal independence is the focus of the center, said Sundarrao, he added that many of the innovations are aimed at improving employment options for those with disabilities. To accomplish this, said Sundarrao, the program aims at determining appropriate technology interventions, designing and fabricating and coordinating the delivery of new products and training for the professionals and consumers who will use them. The Wednesday demonstration will also include a great variety of mobility and other assistance devices for individuals with disabilities.
"The center is a unique interdisciplinary program at USF, but we're not working alone," he explained. "Through collaboration with the University of South Florida Research Foundation, a company called Rehab Ideas (http://www.rehabideas.com) has been formed to commercialize the unique and useful innovations that come out of the center and student efforts."
The University of South Florida is among the nation's top 63 public research universities and one of 39 community engaged public universities as designated by the Carnegie Foundation for the Advancement of Teaching. It is one of Florida's top three research universities. USF was awarded more than $300 million in research contracts and grants last year. The University offers 219 degree programs at the undergraduate, graduate, specialist and doctoral levels, including the doctor of medicine. The University has a $1.8 billion annual budget, an annual economic impact of $3.2 billion, and serves more than 45,000 students on campuses in Tampa, St. Petersburg, Sarasota-Manatee and Lakeland. USF is a member of the Big East Athletic Conference.
– USF –
Barbara Perkins :
Barbara Perkins
News Coordinator
University Communications & Marketing
bperkins@admin.usf.edu